The 2023 Subaru Love Promise Community Commitment Award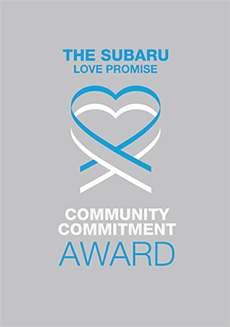 We've been nationally recognized for our dedication to our community and the Subaru Love Promise.
We're honored to receive the 2023 Subaru Love Promise Community Commitment Award. This award nationally recognizes Subaru retailers who are making the world a better place while demonstrating an outstanding commitment to supporting passions and causes in local communities. These efforts are focused in important areas such as the environment, community, health, education, and pets.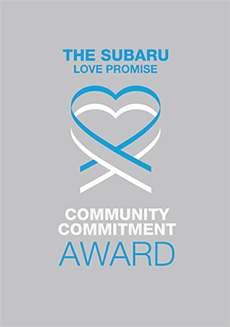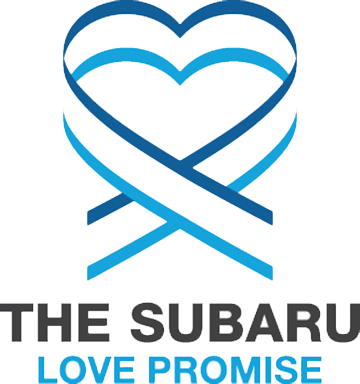 What is the Subaru Love Promise?
Subaru and our retailers believe in making the world a better place and the Subaru Love Promise is our vision of respecting all people. This is our commitment to show love and respect to our customers and to work to make a positive impact in the world.
How is Gustman Subaru dedicated locally to the Love Promise?
Our Love Promise can be seen in various partnerships with local charities and non-profits. We're grateful for the opportunity, not only to be a part of our community, but to serve it as well.
Love Promise Stories from Gustman Subaru
Subaru and Gustman Subaru believe in making a positive impact on the communities in which we live and work. We uphold that belief through our Love Promise Community Commitment. Every month, we select inspiring stories from customers and partners from around our area who strive to support our collective commitment and feature them here
Slug's Transformation - Karissa B
Through our partnership with Gustman Subaru we hosted an adoption event during the month of October. We adopted out 16 pets at the Fox Valley Humane Association. We were able to find their perfect, loving home which we could not be more excited about! Thanks to Jeff Hoppa from Gustman Subaru, we were able to promote this wonderful event and gain some real awareness as well. During this time, we also hosted an open house so there were many potential adopters in and out of the building all day! That brings us to Slug. While Slug was not adopted on the day of the specific adoption event, he was adopted out during the month of October. Slug came to us in August of 2022. He was a feral kitty that was super skittish around people. He would barely come out of his carrier and would hiss any time someone would try to pet him. (First photo is him in August. Unwilling to come out of his carrier. The next two photos are him opening up and screaming for more Culvers!) This would normally be all well and fine as we would always find adopters, even in the most unlikely of circumstances, but Slug was also FIV positive. When a cat receives a positive diagnosis for this, it means that the cat had been infected by a virus. They are significantly more likely to develop cancer and immune-mediated blood disorders than healthy cats. Weight loss, seizures, behavioral changes, and neurological disorders are all possible. Another issue is that it is infectious if the FIV positive kitty were to get into an altercation with another cat. Not only did we have to socialize Slug to not be the feral kitty he was in all of his two years of life, but we also had to tell adopters about the virus which is transmittable. Typically, those that are adopting a cat, tend to have a cat at home as they are wanting to find a buddy for them. Fast forward to two months later, Slug is the most loving guy there ever could be. He became a terrific office kitty who loves pets, treats, and Culvers. Due to the time spent with Slug and the extra care he received during his time here, on his 60 days of being at the shelter, he was adopted into a loving home where he has a brother who looks just like him! We told the adopter about the potential risks, but he didn't care. He fell in love with Slug instantly and knew that he was the perfect kitty to add to his family. Cases like this is what keeps us going. That there is hope among the hopeless. We do this for pets like Slug who might not have been given a chance if he was anywhere else. He truly is an underdog in this situation, and we wish the best for Slug in his new home.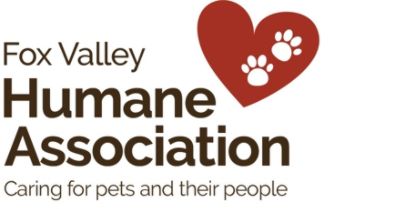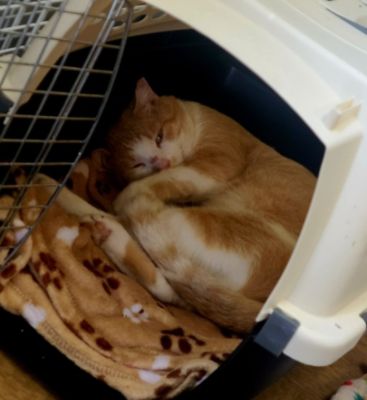 ---
Gustman Subaru Blesses Cancer Patients of ThedaCare Regional Cancer Center - Brenda K
Patients at ThedaCare Regional Cancer Center in Appleton were the recipients of a generous gift from Gustman Subaru. This partnership between Gustman Subaru and The Leukemia and Lymphoma Society blessed cancer patients with the warmth of 80 fleece blankets, craft kits and notes of support and encouragement. These gifts were delivered to ThedaCare Regional Cancer Center on July 20th by Subaru staff, LLS Board of Trustees member and survivor Dayton Henderson, and LLS staff member Nancy Haynes. The ThedaCare staff graciously accepted the donation on behalf of their patients, gave a tour of their facility, and began handing out blankets to their patients immediately. A report from ThedaCare staff the following day verified the patients' excitement and gratitude for the blankets. In fact, they had already given out 72 blankets to their patients and received so many smiles and "thank yous". The Leukemia and Lymphoma Society is proud to be able to bring together great community volunteers, generous businesses, and incredible healthcare facilities to improve the quality of life of cancer patients and their families. SUBARU LOVES TO CARE!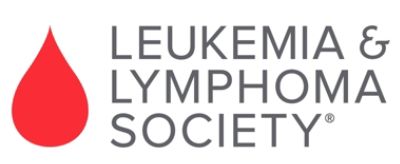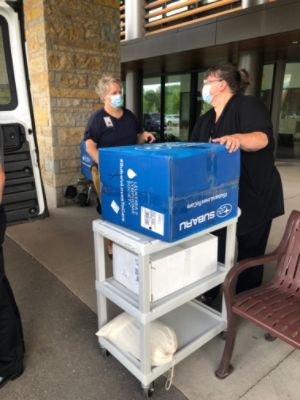 ---
Share the Love Hometown Check Presentation - Kristal K
The Salvation Army Fox Cities was the local reciprocate of 2021 Suburu Share the Love event from Gustman Subaru. The Salvation Army was donated $7,248 from this event and is very humbled that this money can go towards the housing and programing. This gracious donation helped contribute to the 36,757 meals that were served, and 21,375 clients that received assistance in our pantry in 2021. Serving one another is what it's all about here in the Fox Cities Community. Thank you Gustman Subaru!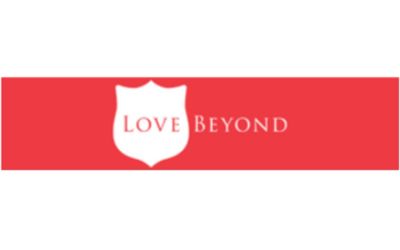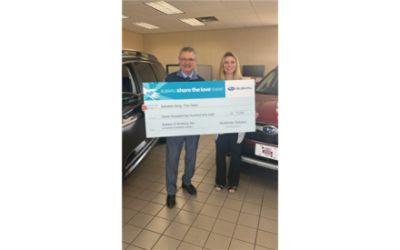 ---
Gustman Subaru Loves Special Needs Pets-Ren Luoma - Ren L
This year Subaru made the focus of their initiative the "underdog", we appreciate Subaru shining a light on special needs animals, by drawing the community in by their stories and helping people hear their voices. When I think of special needs cases that we have helped at our shelter, the first animal that comes to mind is Renji. Renji came to us at the beginning of October immobile and covered in his own excrement. He was unable to stand or move from his left side and couldn't eat or make it into his litterbox though it was clear he wanted to. In addition to these issues, he had nystagmus (shaking of the eyes) and was unable to see. Our vets initially theorized his immobility and vision impairment could be a result of ingesting toxins or a possible previous spinal injury. Despite all these setbacks, our staff was amazed at the affection that such a broken creature had to give, and he inspired us all not to give up on him yet. I volunteered to spend the next couple of weeks syringe feeding, cleaning his fur, and changing his kitty diapers while our vets worked tirelessly to pinpoint the cause of his neurological issues. After testing they discovered he was highly anemic due to not receiving proper nutrients and being severely underweight as well as having terrible kidney function that could have been caused by ingesting a pesticide or rat poison. They also located a previously healed spinal injury that may have also contributed to his immobility. I was determined to keep him clean and give him as much encouragement as he needed. In the beginning I came every day to give him human contact and show him there was a reason to fight and things to live for while we attempted to treat him with antibiotics. Thanks to the help of Subaru, we were able to provide extra care and time to fight for him, for as long as he was willing to fight. He proved over time to be the most determined and wonderfully affectionate cats we have come across. For the first few weeks it was very touch and go. Everyday we came in we had to check to see if he had made it through another night, and sure enough he was always there, laying in the same position he was left in the night before, patiently awaiting the next day's love and affection. Incredibly, Renji slowly gained the ability to roll to his other side and eventually drag himself short distances on his belly. But we were still worried. His kidney function wasn't improving, he was still fighting his anemia, and he was still unable to care for himself in any way. I vividly remember the day that became the turning point in his recovery. That morning he decided he no longer needed help eating and he was ready to do it for himself. Ecstatic, I couldn't dream of what was to follow that evening. As the night wound down and the day's adoptions were being finalized, I brought him to the lobby and set him down on the floor while I finished up the day's paperwork. After a few minutes I heard the chair scoot and turned to find Renji dragging himself along, trying to explore despite not being able to see or properly walk. The next time I turned to check on him my jaw hit the floor and my eyes welled with tears as I witnessed him try and get his feet under him and take his first few steps that we never thought would come. It was at that moment I knew despite his lab results; he was going to be okay. He was never going to stop fighting to share his love with everyone. Renji spent 4 and a half weeks with us in recovery before finally being able to begin his journey in finding his new home. Though I was unable to adopt, the stars aligned when I heard a family member (Savanna) was at that time looking for another cat. She initially spent about an hour with him and then took the time to think about it. I fought myself to not bring it up again, wanting the decision to be hers and not influenced by my bias over the brave boy I had come to so deeply love over the last month. A week later she called to say she couldn't stop thinking about him and wanted to give it a go. We planned out the introduction and next steps as I fought to contain my excitement. The learning curve was more difficult for her cat, Cookies than it was for him, she couldn't quite understand why he was at times running directly into her and others completely ignoring her. There were a few touch and go moments, but I'm pleased to share with you that she's come around and fully accepted Renji and all his quirks. The following month I received a call from Savanna asking if it would be okay to change his name. It was a moment that will stay engraved in my heart forever because I knew that Renji, now Tofu, had found his new family and had begun his new life.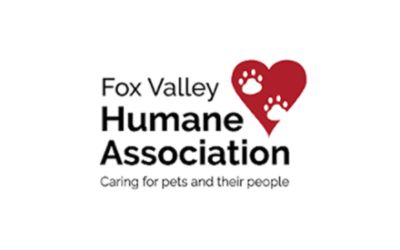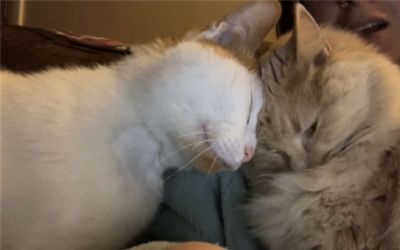 ---
Subaru Loves the Neenah Animal Shelter - Barbara L
The Neenah Animal Shelter would like to thank our friends at Gustman SUBARU of Appleton for once again supporting our shelter animals during their "Share the Love" promotion in December 2020. Gustman Subaru hosted a promotion for used car sales, with NAS being one of five local non profits selected as recipients. We're lucky to have been chosen for this honor 5 years in a row! We received over $1800 to help with animal care expenses.Thank you again to Gustman Subaru and their customers for supporting the Neenah Animal Shelter in our mission!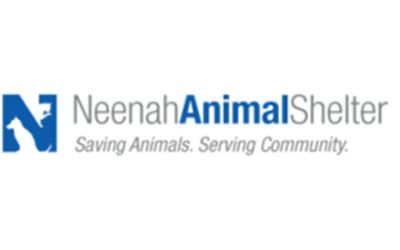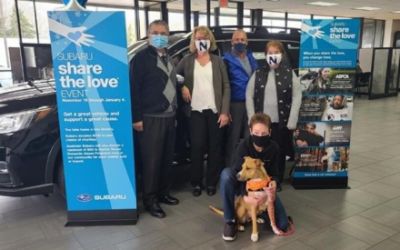 ---
Subaru Loves to Care - Jennifer S
Not only did they support a local LLS Students of the Year candidate with an incredibly generous gift, but they also participated in Subaru Loves to Care. Subaru of America, Inc. continued its longtime partnership with The Leukemia & Lymphoma Society (LLS) for the sixth consecutive year to send love, hope and warmth to patients battling cancer during Subaru Loves to Care month in June. As part of the partnership, Gustman Subaru and a record 606 participating Subaru retailers nationwide supported more than 40,000 blood cancer patients by mailing blankets and messages of hope, handwritten with love and care by Subaru retailers and customers, directly to patients' homes. Visitors to Gustman Subaru retailers were given the opportunity to write personalized messages of support to cancer patients in their local communities. Our local LLS Upper Plains Region couldn't be more thankful for Gustman Subaru coming alongside our patients in such a tangible and comforting way during cancer treatment! Survivor Kaleb and his family says it best below: Subaru Partners— Thank you all for the support you have given to our son, Kaleb, who was diagnosed with AML in January of 2020. Our family has received help through the LLS Travel Assistance program and the Urgent Need program. These two have helped out our family tremendously. Not only for travel cost, but not having the burden to worry about other costs associated with having a child in the hospital for six months and ongoing appointments after that for follow-up. Your support and generosity is appreciated more than you will ever know. We are so blessed to have organizations like yours to help families like us. Thank you from the bottom of our hearts! Dave, Cassandra, Kaleb, and Alayna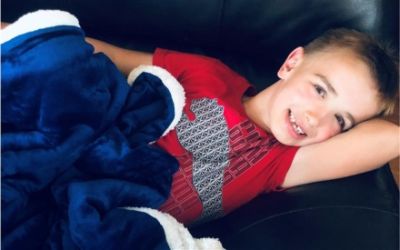 ---
a HUGE thank you to Gustman Subaru ... - Fox Valley H
A huge thank you to Gustman Subaru for supporting the FVHA ! This month of October they will be collecting pet food donations to stuff into one of their Subaru vehicles ! Once the month is up , all donations will come back to us for the animals here at the humane association . Visit Gustman to make a donation ! THANK - YOU ! Fox Valley Humane Association Appleton, WI.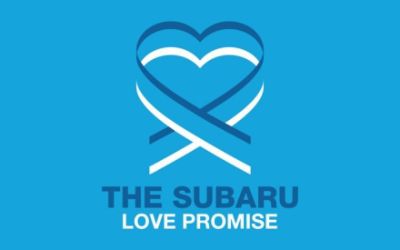 ---
Gustman Subaru Delivers Hope! - Karen R
On July 23, 2019 the Leukemia & Lymphoma Society Wisconsin Chapter and Gustman Subaru had the pleasure of delivering 80 blankets and a supply of arts & craft kits to ThedaCare Regional Medical Center as part of the Subaru Loves To Care program. This delivery was particularly meaningful as Dayton, a LLS volunteer and Subaru owner, joined the event. Dayton was treated for AML at this hospital just two years prior and truly enjoyed coming back to thank the hospital staff for their care and Gustman Subaru for their support of cancer patients in the area. ThedaCare planned an Oncology staff meeting around the delivery so Gustman Subaru, LLS and Dayton were able to speak directly with the unit staff that will be delivering blankets and kits to patients in treatment. Gustman Subaru also presented their Light The Night sponsorship check at the event, which marks the third year of partnership with Gustman Subaru for our Appleton Walk! We are truly grateful for Gustman Subaru's partnership and support of the Appleton cancer community. Many thanks!!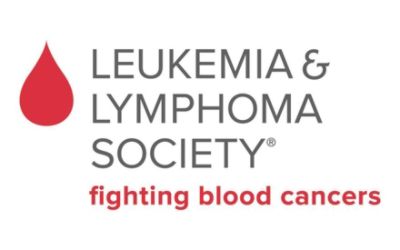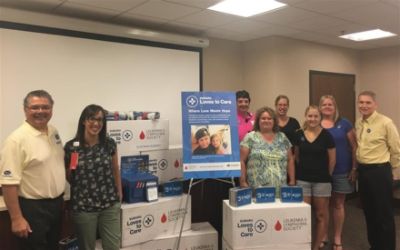 ---
It's Not Easy Asking for Help - Karen Z
The kindness that Gustman Subaru and Subaru Corporate have shown the client guests at St. Joseph Food Program is carried with them in the heart. Your support makes our program possible. Take it from one of our client guests, Elissa. "I was one of those proud people struggling through life, at times debating whether to get food or pay bills." In an opening statement made before 200 plus St. Joe volunteer, Elissa stood as brave as the day she stepped through the doors at St. Joseph Food Program seeking assistance and thanked our community for helping her and her family. At St. Joe's, we know it's not easy for people to ask for help, but we are always striving to make it a kind, approachable and dignified experience."…from the application process to the cart weighs in at the end, everyone is very nice and helpful. When I come across people that are struggling, I tell them about St. Joe's and the amazing volunteers. With help from St. Joes, I am able to get the necessities, bread, milk, eggs, meat, and I get an amazing selection of fresh fruits and veggies. This helps so much…"Thank you all for your hard work, dedication, and kindness." Thank you Sabaru...you walk the walk and talk the talk! Our hearts are full!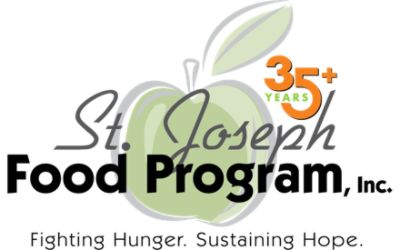 ---
Gustman Subaru Brings Hope to Cancer Patients - Megan K
The incredible generosity of Gustman Subaru in Appleton Wisconsin perfectly embodies the Subaru Loves to Care ideals. For the last three years, Gustman Subaru has been 'bringing light to the darkness of cancer' to patients in the Fox Valley by partnering with the Leukemia & Lymphoma Society to deliver blankets, craft kits, tote bags, and messages of hope written by the retail location customers. The staff at ThedaCare was excited to receive such an amazing gift to be able to share hope with patients in their care. The blankets will bring comfort to those who are navigating such a difficult journey, and the craft kits will provide some comfort to the children who must come to the hospital while their loved one is in treatment. The messages of hope bring words of encouragement to those who need the love and support of their community. Mr. Hoppa of Gustman Subaru went a step further and for the third year in a row surprised LLS staff with an amazingly generous donation to the Light The Night walk taking place in Appleton in the Fall. Their continued presence is making a huge impact for cancer patients in Northeastern Wisconsin and is the reason why we at LLS know how much the staff at Gustman truly cares about their community.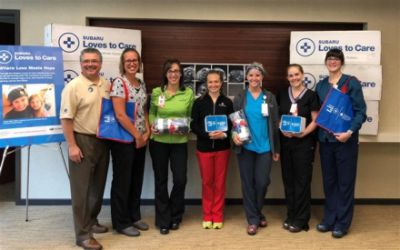 ---