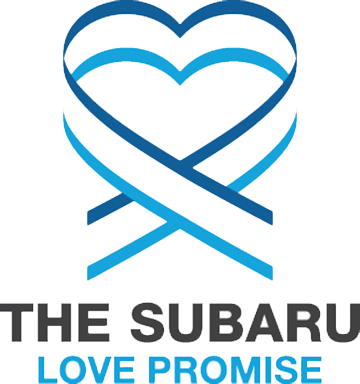 What is the Subaru Love Promise?
Subaru and our retailers believe in making the world a better place and the Subaru Love Promise is our vision of respecting all people. This is our commitment to show love and respect to our customers and to work to make a positive impact in the world.
How is Gustman Subaru dedicated locally to the Love Promise?
Our Love Promise can be seen in various partnerships with local charities and non-profits. We're grateful for the opportunity, not only to be a part of our community, but to serve it as well.
Love Promise Stories from Gustman Subaru
Subaru and Gustman Subaru believe in making a positive impact on the communities in which we live and work. We uphold that belief through our Love Promise Community Commitment. Every month, we select inspiring stories from customers and partners from around our area who strive to support our collective commitment and feature them here
Subaru Loves to Care - Jennifer S
Not only did they support a local LLS Students of the Year candidate with an incredibly generous gift, but they also participated in Subaru Loves to Care. Subaru of America, Inc. continued its longtime partnership with The Leukemia & Lymphoma Society (LLS) for the sixth consecutive year to send love, hope and warmth to patients battling cancer during Subaru Loves to Care month in June. As part of the partnership, Gustman Subaru and a record 606 participating Subaru retailers nationwide supported more than 40,000 blood cancer patients by mailing blankets and messages of hope, handwritten with love and care by Subaru retailers and customers, directly to patients' homes. Visitors to Gustman Subaru retailers were given the opportunity to write personalized messages of support to cancer patients in their local communities. Our local LLS Upper Plains Region couldn't be more thankful for Gustman Subaru coming alongside our patients in such a tangible and comforting way during cancer treatment! Survivor Kaleb and his family says it best below: Subaru Partners— Thank you all for the support you have given to our son, Kaleb, who was diagnosed with AML in January of 2020. Our family has received help through the LLS Travel Assistance program and the Urgent Need program. These two have helped out our family tremendously. Not only for travel cost, but not having the burden to worry about other costs associated with having a child in the hospital for six months and ongoing appointments after that for follow-up. Your support and generosity is appreciated more than you will ever know. We are so blessed to have organizations like yours to help families like us. Thank you from the bottom of our hearts! Dave, Cassandra, Kaleb, and Alayna
---
a HUGE thank you to Gustman Subaru ... - Fox Valley H
A huge thank you to Gustman Subaru for supporting the FVHA ! This month of October they will be collecting pet food donations to stuff into one of their Subaru vehicles ! Once the month is up , all donations will come back to us for the animals here at the humane association . Visit Gustman to make a donation ! THANK - YOU ! Fox Valley Humane Association Appleton, WI.
---
Gustman Subaru Delivers Hope! - Karen R
On July 23, 2019 the Leukemia & Lymphoma Society Wisconsin Chapter and Gustman Subaru had the pleasure of delivering 80 blankets and a supply of arts & craft kits to ThedaCare Regional Medical Center as part of the Subaru Loves To Care program. This delivery was particularly meaningful as Dayton, a LLS volunteer and Subaru owner, joined the event. Dayton was treated for AML at this hospital just two years prior and truly enjoyed coming back to thank the hospital staff for their care and Gustman Subaru for their support of cancer patients in the area. ThedaCare planned an Oncology staff meeting around the delivery so Gustman Subaru, LLS and Dayton were able to speak directly with the unit staff that will be delivering blankets and kits to patients in treatment. Gustman Subaru also presented their Light The Night sponsorship check at the event, which marks the third year of partnership with Gustman Subaru for our Appleton Walk! We are truly grateful for Gustman Subaru's partnership and support of the Appleton cancer community. Many thanks!!
---
It's Not Easy Asking for Help - Karen Z
The kindness that Gustman Subaru and Subaru Corporate have shown the client guests at St. Joseph Food Program is carried with them in the heart. Your support makes our program possible. Take it from one of our client guests, Elissa. "I was one of those proud people struggling through life, at times debating whether to get food or pay bills." In an opening statement made before 200 plus St. Joe volunteer, Elissa stood as brave as the day she stepped through the doors at St. Joseph Food Program seeking assistance and thanked our community for helping her and her family. At St. Joe's, we know it's not easy for people to ask for help, but we are always striving to make it a kind, approachable and dignified experience."…from the application process to the cart weighs in at the end, everyone is very nice and helpful. When I come across people that are struggling, I tell them about St. Joe's and the amazing volunteers. With help from St. Joes, I am able to get the necessities, bread, milk, eggs, meat, and I get an amazing selection of fresh fruits and veggies. This helps so much…"Thank you all for your hard work, dedication, and kindness." Thank you Sabaru...you walk the walk and talk the talk! Our hearts are full!
---
Gustman Subaru Brings Hope to Cancer Patients - Megan K
The incredible generosity of Gustman Subaru in Appleton Wisconsin perfectly embodies the Subaru Loves to Care ideals. For the last three years, Gustman Subaru has been 'bringing light to the darkness of cancer' to patients in the Fox Valley by partnering with the Leukemia & Lymphoma Society to deliver blankets, craft kits, tote bags, and messages of hope written by the retail location customers. The staff at ThedaCare was excited to receive such an amazing gift to be able to share hope with patients in their care. The blankets will bring comfort to those who are navigating such a difficult journey, and the craft kits will provide some comfort to the children who must come to the hospital while their loved one is in treatment. The messages of hope bring words of encouragement to those who need the love and support of their community. Mr. Hoppa of Gustman Subaru went a step further and for the third year in a row surprised LLS staff with an amazingly generous donation to the Light The Night walk taking place in Appleton in the Fall. Their continued presence is making a huge impact for cancer patients in Northeastern Wisconsin and is the reason why we at LLS know how much the staff at Gustman truly cares about their community.
---
Gustman delivers LOVE & HOPE to cancer patients! - Naomi G
The Leukemia & Lymphoma Society is honored to partner for a second time with Gustman Subaru for the month of June to bring hope and warmth to local cancer patient at Fox Valley Hematology & Oncology (FVHO). Jeff Hoppa from Gustman along with FVHO staff walked around to deliver the co-branded (LLS & Subaru) blankets to patients receiving treatment on Thursday, July 13th. Paul, cancer patient (also volunteer for FVHO) and recipient of the blanket appreciate the gesture saying "it's nice that others are thinking about us. There's no cure for my type of cancer, I'm able to manage it by this medicine you see here (pointing to the IV) but I do my best to stay positive and I volunteer here at the hospital at least once a week. I know the other patients will be just as grateful as I am for this gift". Gustman Subaru went above and beyond to not only bring awareness to blood cancers but supported with an additional fundraising effort. AND for the second year in a row! For every test drive and car sold in the month of June, Gustman made a donation to LLS. This resulted in a total over $3,000 raised for blood cancer patients! Thank you Subaru for encouraging love and giving back to the community. We can all use a little more love!
---
Gustman Subaru Loves to Care - Naomi G
When Gustman Subaru agreed to partner with LLS for the month of June, they wasted no time sharing the news with their customers. The dealership created a video and promoted their partnership with LLS and the local blood center. For every test drive Gustman donated $5 to LLS and for every purchased car, $100 was donated to LLS. With enthusiasm, Jeff Hoppa shared the "Where Love Meets Hope" initiative with his customer, Mrs. Surprise. Mrs. Surprise shared with Jeff that she was a blood cancer survivor and she was treated at Fox Valley Hematology & Oncology and would love to see them receive the blankets. Gustman Subaru truly went above and beyond during the month of June to show the community that they care. The campaign concluded with the blanket delivery at Fox Valley Hematology & Oncology including Mrs. Surprise (in red, a blood cancer survivor), Mrs. Kathy Goggins (the wife of Dr. Goggins, Mrs. Surprise's oncology doctor) and Jeff Hoppa (Gustman Subaru). At the conclusion of the blanket delivery, Jeff presented LLS with a check for $3,195! the funds raised through this campaign will support the mission of LLS. Thank you for the opportunity to share this wonderful act of kindness with Subaru Corporate. We're grateful for this partnership and the "giving roots" of Subaru!
---